With the Badgers season ending this past Thursday it's time to grade out the Badgers on an individual basis as both Cole (our basketball reporter) and myself give you a look at the players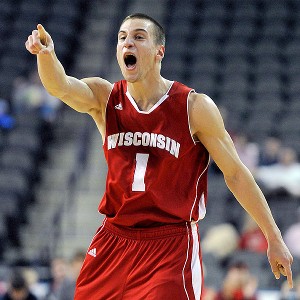 and their individual seasons.
Did they live up to expectations? Over produce or under produce? All of those things were taken into account and today we start our series with the name at the top of the alphabet this year and that's Ben Brust.
Overall Stats:
7.3 points per game, 2.2 rebounds per game, .389% 3 point shooting & 21.3 minutes a game
Grades:
Cole: B-
Andy: C +
– Coming into the season Brust was expected to be one of the best options off the bench and for the most part he was a very good option for the Badgers when Gasser or Taylor needed a spell. However, as the season went on he dissapeared a bit. His numbers dipped in Big Ten play nearly all around as he averaged just 5.5 points per game and shot just .299 % from deep. Those numbers just won't cut it for a guy who's supposed to be a sharp shooter off the bench for Wisconsin. Had his numbers in conference play been a bit higher I would've agreed with Cole's grade more and I can see why a B – is possible because he did a lot more than just shoot from deep this year, but I can't get over the drop in production during conference games. Brust did finish the season with the 6th most minutes played on the Badgers team and had then 8th highest point average of all bench players in the Big Ten, but I was honestly expecting him to be more of a factor all season and he just wasn't a guy that stood out for the most part especially when the conference season hit.
He scored a career high 25 points against UNLV, tying a school record with 7 three pointers (7-7) in the game. Brust topped 20 points one other time in non-conference play, going for 21 points against BYU. He also scored 13 points against both Indiana and Purdue as his higlights of the year. However, he also had 4 conference games in which he failed to record a single point along with both Big Ten tournament games where he failed to score a point.
(photo courtesy Jim Prisching/AP)