One thing that hasn't happened much so far in the journey through the best that college sports has to offer in the MTB College Sports Bucket List is a lot of Wisconsin. Sure we've featured MSOE (Milwaukee School of Engineering), but that seems so long ago (No. 99). Well, that changes a bit today as we feature a public university from the home state today.
Before we move on, don't forget to check out No. 83 from yesterday – Michigan vs. Michigan State in Hockey!
On to the task at hand though….
No. 82 – Wisconsin-Whitewater vs. Mount Union:
I'm guessing you never thought you'd see this game on the list because it's not guaranteed every year. Well, the way these two teams have been clipping off national championship game appearances in the past decade it's understandable as to how this one made it on the list and pretty high up there for a DIII game.
The UWW Warhawks and Mount Union Purple Raiders have never met anywhwere but in the Amos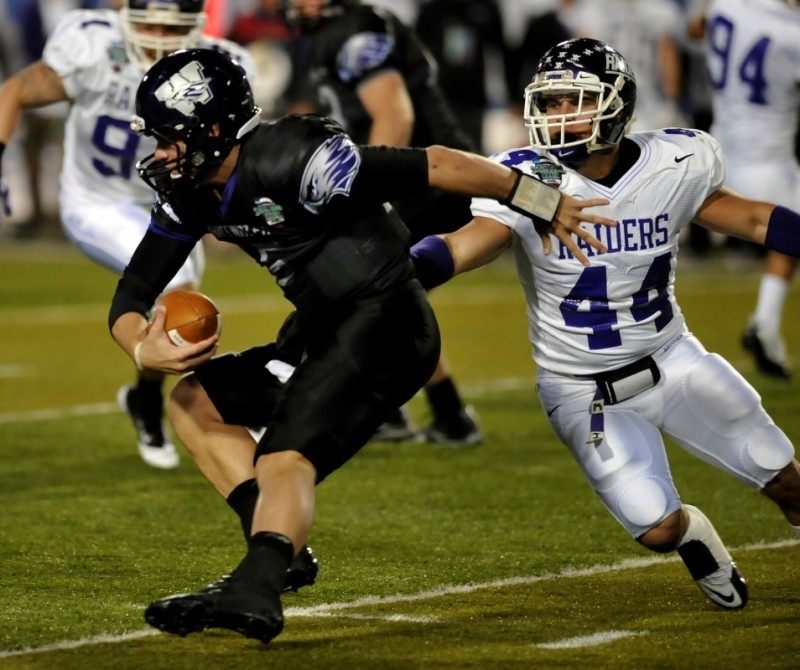 Alonzo Stagg Bowl (D3 Championship game) for the last seven years in a row. Yes, that's not a mis-print, SEVEN YEARS in a row. So far this century they've combined to make 18 of a possible 22 appearances in the Stagg Bowl and that's just a ridiculous amount of dominance on a national level. In fact, the dominance is such that before they met for the past seven seasons not a single pair of teams had even met in back to back seasons in the Stagg Bowl.
It's not just that they've met for that many years straight or that they've done something no other pairs of schools have done that makes this a must see game, it's the quality of the on the field product and the fact that the games have been slug fests to say the least. Going into last years meeting the largest margin of victory between the two schools was just 19 points and belonged to Mount Union in the 2006 national championship game.
Right now Wisconsin-Whitewater holds a three game winning streak and thus is a three time defending national champion. Overall UWW has won the 2007, 2009, 2010, and 2011 titles and Mount Union has the 2005, 2006, and 2008 titles. However, Mount Union has a bit more history with the national championship than the Warhawks. They are the winners of 10 national championships in school history (1993, 1996, 1997, 1998, 2000, 2001, 2002 are the others).
You can't really beat seeing two of the best teams in their division playing against each other year in and year out to see who really is the best. It's what makes the NCAA football playoffs attractive to true leatherheads out there and why seeing these two go at it in Salem, VA is a must see for any true college football fan out there.