One last look at the Badgers roster as we give you the most complete look at Badgers heading into camp and up last, but definitely not least are the Special Teams.
The 2012 Special Teams unit will no doubt look a lot different with the graduation of their punter, kicker, and long snapper from last season.
Probable Starters:
K – Kyle French (RS So., 6'1″, 193lbs.)
P – Drew Meyer (RS Fr., 6'2″, 182lbs.)
LS – James McGuire/ Connor Uldenhoven
Thoughts on the Unit:
Change is completely afoot surrounding this unit in 2012. From rule changes, to new players, to new coaches.
First up the Badgers are replacing the entire starting unit for the first time since the 2008 season. Realistically, Wisconsin fans have been spoiled by not having to replace players at these key positions at the same time, it's a luxury not many schools have been afforded.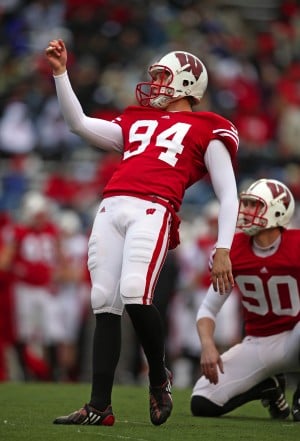 As for those replacing departed starters? Well at least we know we have some sort of game day experience from Kicker Kyle French, who saw time in place of Philip Welch while he was out injured to start the season. He went 3-5 on field goal attempts, but only had a long of 29 yards. He was also 26-27 on PAT's. French's two misses weren't exactly chip shot's to say the least, missing from 50 yards out on both of them.
Punter is whole different situation as Drew Meyer steps in for the consistent and valuable (i.e. Big Ten Championship game) Brad Nortman who is off to the NFL this season. Meyer didn't exactly light the world on fire in his debut at the spring game, but it's a long way from there to the Sept. 1st opener and it's clear the freshman will be looking to get better. To be honest, just seeing a spark out of him would've been encouraging, but we didn't get even that in what were tough weather conditions – something he refused to use as an excuse after the game.
They also face the challenge of a lot of new coaches with new roles in coaching the special teams. Luckily they aren't all new there either. Charlie Patridge will be in charge of punt team just like he has been in the past, but that's the only holdover.
Zach Azzani will run the punt return unit, and he'll have the nations best returning punt return at his disposal in Jared Abbrederis. I'd say that's not a bad way to start off that coaching duty, huh?
Eddie Faulkner gets the kickoff return unit and new linebackers coach Andy Buh is in charge of the kickoff coverage unit.
One thing is for sure, the coverage units may be better off for the new blood in coaching, because they costs us a lot last season. From blocked punts to horrible tackling on returns the Badgers put their defense in holes that weren't exactly easy to dig out of and seemingly at every inopportune time as well.
The last change facing the unit is some rule changes. Kickoffs have been moved up to the 35 yard line, making kick returns nearly null and void for those kickers with strong legs. As a result they've also moved the touchback line to the 25 yard line instead of the 20.
Wisconsin may see some of freshman kicker Jack Russell who seems to have a bit of a stronger leg overall than French, but expect him to only compete for the kickoff specialist duties in camp.