After taking nearly the entire Wisconsin offensive coaching staff with him to Pitt new Panthers Head Coach Paul Chryst has turned to another former Badger to fill a roll on his staff as ex-Badger QB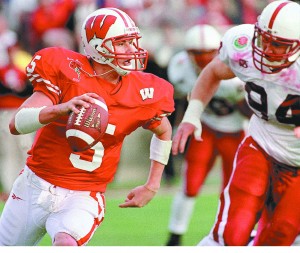 Brooks Bollinger was named as the Quarterbacks coach at Pitt according to reports out of the St. Paul Pioneer Press and the Wisconsin State Journal.
Bollinger spent last season as the Head Coach of Hill-Murray High School in the Twin Cities area and led them to the Class 4A semifinals.
With that hire it makes a half a dozen coaches hired by Chryst with ties as a player or coach to Wisconsin. He originally took Bob Bostad, Joe Rudolph, Dave Huxtable with him and also hired Jim Hueber and Eddie Faulkner to round out his first staff.
However since those hirrings Bostad has left for the offensive line coaching postion with the Tampa Bay Buccaneers and Eddie Faulkner came back to Wisconsin to become the running backs coach.
"I think it was an extremely difficult decision for me, but also a great opportunity," Bollinger said when speaking to the Pioneer Press. "I am excited for the opportunity at Pitt. Also, it is so hard to leave Hill-Murray. It was a special place to me while I was there. They are great people and is a great place. I am so thankful for the opportunity to have been there."
Badger fans will remember that his name came up in association with the vacant job formerly held by Chryst, so it is a bit ironic that Bollinger has joined him on the Panthers staff and is someone to keep an eye out for in the coaching ranks.
(photo courtesy Mike Devires/Capital Times)